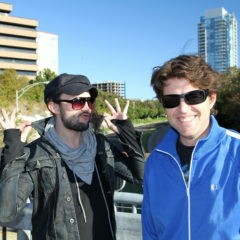 Opencloud
Proton Ambassadors. Life lovers. Soul seekers. Vibe makers. Love takers. Pain breakers. God fearing. Steak searing.
Following their debut in 2004, techno duo Opencloud (Blake Potter and Corey Spengler) have steadily been making a name for themselves in the scene with releases on Fade, Nervous and Waveform Recordings while also working alongside the likes of Cari Golden, Rob Rowe and Kirsty Hawkshaw. Not being afraid to experiment, Opencloud has pushed ahead as djs and producers over the years by promoting their sound through their Proton Radio show Open Up, steadily growing their record label Proton Limited, performing at various events from Burning Man to WMC, and producing parties across North America and their Dallas warehouse space, The Express.
Opencloud's dedication to music has wrapped the pair into an ever-evolving style of sounds that truly has made them unique to the scene, and a show not to be overlooked.